Home

Tengerparti szállások

Napospart

Aparthotel Vechnar*** 2014
Aparthotel Vechnar*** 2014
The apartment house is 180 metres far away from the sandy beach and 2 kms away from the centre of Sunny Beach. The top of the building there is a beautiful view of ​​Nessebar and the beach area of Sunny Beach.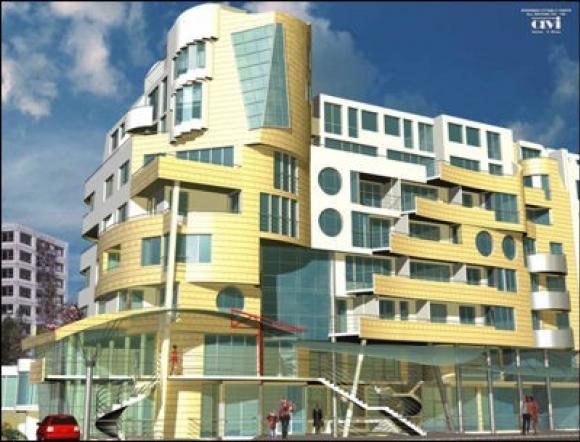 Traveler opinion: 3*
Pool for adults and children. By the pool use of parasols and sunbeds: free. There is a lobby bar and cofe too.There is a parking place, which is free for the guests. Weekly cleaning in the apartments.
In the apartments:  bath, fully equipped kitchen (microwave, refrigerator, coffee maker, cutlery, dishes, plates), TV and balcony, free internet 
Safe: fee of charge: 5 leva/night
 Free parking place and Wi-Fi
Resort fee: 300 HUF/person/night for adults, 150 HUF/person/night for children under 12 years old
Dinner is available on request at an additional cost:
For adults: 2 190 HUF/person/night
For children: 1 200 HUF/child/night
Discounts between 30.05. and 18.06.
- Studio with breakfast for 2 adults: 6 990 HUF/night/2 persons
- Apartment with breakfast for 4 adults: 12 790 HUF/night/4 adults
- Studio /on extra bed/+first child: 800 HUF /ages 3-12/
- Studio /on extra bed/+second child: 2 900 HUF 
- Studio /on extra bed/+adult: 3 990 HUF 
Studio for 2 persons
| | | | | | | | | | | | | | | | | | | | | | | | | | | | | | | | |
| --- | --- | --- | --- | --- | --- | --- | --- | --- | --- | --- | --- | --- | --- | --- | --- | --- | --- | --- | --- | --- | --- | --- | --- | --- | --- | --- | --- | --- | --- | --- | --- |
| Jun | 1 | 2 | 3 | 4 | 5 | 6 | 7 | 8 | 9 | 10 | 11 | 12 | 13 | 14 | 15 | 16 | 17 | 18 | 19 | 20 | 21 | 22 | 23 | 24 | 25 | 26 | 27 | 28 | 29 | 30 |   |
| Jul | 1 | 2 | 3 | 4 | 5 | 6 | 7 | 8 | 9 | 10 | 11 | 12 | 13 | 14 | 15 | 16 | 17 | 18 | 19  | 20  | 21  | 22  | 23  | 24  | 25  | 26  | 27 | 28 | 29 | 30 | 31 |
| Aug | 1 | 2 | 3 | 4 | 5 | 6 | 7 | 8 | 9 | 10  | 11  | 12 | 13  | 14  | 15 | 16  | 17  | 18  | 19  | 20  | 21  | 22  | 23  | 24  | 25  | 26  | 27  | 28  | 29  | 30  | 31 |
2+2 apartment
| | | | | | | | | | | | | | | | | | | | | | | | | | | | | | | | |
| --- | --- | --- | --- | --- | --- | --- | --- | --- | --- | --- | --- | --- | --- | --- | --- | --- | --- | --- | --- | --- | --- | --- | --- | --- | --- | --- | --- | --- | --- | --- | --- |
| Jun | 1 | 2 | 3 | 4 | 5 | 6 | 7 | 8 | 9 | 10 | 11 | 12 | 13 | 14 | 15 | 16 | 17 | 18 | 19 | 20 | 21 | 22 | 23 | 24 | 25 | 26 | 27 | 28 | 29 | 30 |   |
| Jul | 1 | 2 | 3 | 4 | 5 | 6 | 7 | 8 | 9 | 10 | 11 | 12 | 13 | 14 | 15 | 16 | 17 | 18 | 19 | 20  | 21  | 22  | 23 | 24  | 25  | 26  | 27 | 28 | 29 | 30 | 31 |
| Aug | 1 | 2 | 3 | 4 | 5 | 6 | 7 | 8 | 9 | 10  | 11  | 12 | 13  | 14  | 15  | 16  | 17  | 18  | 19  | 20  | 21  | 22  | 23  | 24  | 25 | 26  | 27  | 28  | 29  | 30  | 31 |
4+2 Maisonette
| | | | | | | | | | | | | | | | | | | | | | | | | | | | | | | | |
| --- | --- | --- | --- | --- | --- | --- | --- | --- | --- | --- | --- | --- | --- | --- | --- | --- | --- | --- | --- | --- | --- | --- | --- | --- | --- | --- | --- | --- | --- | --- | --- |
| Jun | 1 | 2 | 3 | 4 | 5 | 6 | 7 | 8 | 9 | 10 | 11 | 12 | 13 | 14 | 15 | 16 | 17 | 18 | 19 | 20 | 21 | 22 | 23 | 24 | 25 | 26 | 27 | 28 | 29 | 30 |   |
| Jul | 1 | 2 | 3 | 4 | 5 | 6 | 7 | 8 | 9 | 10 | 11 | 12 | 13 | 14 | 15 | 16 | 17 | 18 | 19  | 20  | 21  | 22  | 23  | 24  | 25 | 26 | 27 | 28 | 29 | 30 | 31 |
| Aug | 1 | 2 | 3 | 4 | 5 | 6 | 7 | 8 | 9 | 10  | 11  | 12 | 13 | 14  | 15  | 16  | 17  | 18  | 19  | 20  | 21  | 22  | 23  | 24 | 25  | 26 | 27  | 28  | 29  | 30  | 31 |
A=Adult, C=Child, S=Self-catering
HUF/unit/night

self-catering/breakfast

01.06 - 22.06.

01.09 - 15.09.

23.06 - 19.07.

21.08 - 31.08.

20.07 - 20.08.
Studio 2A, 1 A+1C, 1A+1C,  S

 7.990

 10.590

 14.690

Studio 2A, 1 A+1C, 1A+1C,  breakfast

9.990

12.790

16.690

Studio 2+1/ 3 adults, S

10.990

13.690

17.790

Studio 2+1/ 3 adults, breakfast

14.290

16.990

20.590

Studio 2A+1 C, S
7.990
10.590
14.690
Studio 2A+1 C, breakfast
10.390
13.290
16.990
Studio 2A+ 2 C, S
10.390
12.990
16.990
Studio  2A+2 C, breakfast

13.790

16.190

20.190

Apart/2+2/ 3-4 A, 3 A+1 C, S

11.590

15.790

18.590

Apart/2+2/ 3-4A, 3 A+1 C, breakfast

15.690

19.390

22.190

Apart/2+2/ 2A+2 C, 2 A+1 C, S

10.990

15.390

18.190

Apart/2+2/ 2A+2 C, 2 A+1 C, breakfast

 14.290

18.590

21.390

Maisonette 4A+1 A, 4A , S

15.990

20.990

24.990

Maisonette 4A+1A, 4 A ,breakfast
20.790
26.190
29.990
Maisonette 3A+2 C, S
15.990
20.990
24.990
Maisonette 3A+2 C,breakfast
20.390
25.790
29.390
Maisonette: 2 A+3 C, 3 A+1 C, C
15.990
20.990
24.990
Maisonette: 2 A+3 C, 3 A+1 C, breakfast
19.590
25.390
29.090